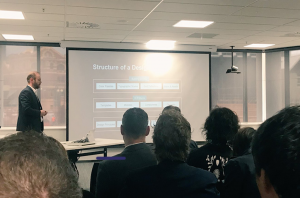 On the 21st of March the latest CWP Meetup was hosted by DIA, this time looking at All of Government (AOG) Design. Mark Kirkpatrick from Government Information Services (GIS) spoke about about the challenges of creating a design system for the entirety of the government. Benn Crawford, CWP Product Owner at SilverStripe and Kayleigh Shepherd, CWP Product Owner at DIA, both spoke about the co-funded update, and looked in-depth at a few of the 2.0 recipe supported modules.
All of Government Design
In his talk, Mark covered what a design system is, the user and business needs that exist within the space, the common issues with implementing such systems and finally the benefits it can have when it comes to digital projects across government.
Mark discussed the issues with having a lack of consistency across government digital services, and how it reduces trust. This issue is prevalent not just in government, but also in large organisations. To combat this, he suggested rolling out a common pattern design library, which addresses issues such as:
Inconsistent experiences 'getting stuff done' with government
User Interfaces of varying quality (bloat, accessibility issues etc.)
Inconsistent wording (user confusion, not 'making it easy', transparency)
The major takeaway from Mark's talk was that by creating a common design system across government, it could save a huge amount of development time, both in the creation of new websites, and the modification of old sites. Having design systems in place can eliminate code redundancies, and save more than 20% of developer's time.
A design system for the New Zealand Government is not yet in creation, but through opening the conversation about it, creates more discussion in this space, which one day may culminate in the creation of an All of Government design system that Mark is advocating for.
Mark has already received some great initial feedback from the Meetup yesterday. Mark and his team also have a lot of questions that they want to work towards answering and want to get your feedback and input!
Following on from Mark's talk, Benn and Kayleigh then presented upcoming changes with the co-funding this quarter.
Getting Involved
If you'd like to get involved with the community and join the conversation about how to best move forward with an All of Government Design System, please contact Idris Corap (User Experience Designer, GIS) - Idris.Corap@dia.govt.nz. To contact Mark personally you can reach him at mark.kirkpatrick@dia.govt.nz or via twitter @mkirkpat if you have any questions.
You can see a video of the Meetup here(external link), and the slides here(external link).